York Cancer Center at Apple Hill Medical Center
| | |
| --- | --- |
| Client | WellSpan Health |
| Location | York, PA |
| Size/Cost | 4000 SF / $1.5M |
| Dates | 2008–2009 |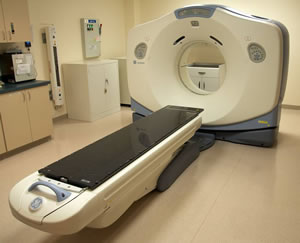 Background
WellSpan Health is a community health system in Adams and York County, Pennsylvania, with 2 hospitals, 10 outpatient health centers, and 40 locations throughout the region. Among the numerous specialty centers within WellSpan is the York Cancer Center at the Apple Hill Medical Center, which opened in 1994. Along with the Adams and Cherry Tree Cancer Centers, the York Cancer Center offers a full array of oncology and radiation therapy services.
Objective
Committed to providing state-of-the-art equipment and oncology services to patients within the health system, WellSpan recognized a need for a new CT Simulator, a new HDR Vault, and a new Linear Accelerator. In order to upgrade their facilities without disrupting operations, patient care, or the work environment, WellSpan needed a solution provider that could guarantee project delivery on time and within budget. In the fall of 2008, WellSpan contracted CMSI as a design-builder to execute the renovation and upgrades to their York radiation oncology department.
Approach
CMSI's design-build team worked with WellSpan to develop a comprehensive plan to complete the proposed project while minimizing disruptions to operations. Their approach included a phased and carefully coordinated project plan and detailed infectious control and life safety measures. In Phase 1, a new CT Simulator was installed. In addition, CMSI built a new HDR Vault, in order to relocate the HDR equipment that was housed in one of their linear accelerator vaults. In Phase 2, CMSI installed a new linear accelerator within an existing vault that needed to be completely renovated to accept the new technology. The project was highly invasive of the clinical environment. CMSI isolated the construction workspace from the existing operations and implemented numerous infectious control measures to prevent contamination of compromised immune systems.
Results
With the renovations at the WellSpan's York Cancer Center complete, the radiation oncology department's ability to provide cancer treatment has never been more robust. The increased capacity and advanced capabilities within WellSpan Health means patients in the region will benefit from the most current technology available, and will receive state-of-the-art radiation therapy.