SurgCenter Development
15 Maryland Locations
Client
SurgCenter Development
Location, Size/Cost
Greenbelt, 4100 SF /
$1.16M
Rockville, 6000 SF /
$1.35M
Annapolis, 5000 SF /
$1.15M
Westminster, 5550 SF /
$1.25M
Bel Air, 5900 SF /
$1.225M
Glen Burnie, 5700 SF /
$1.245M
Columbia, 5100 SF /
$1.2M
Timonium, 4500 SF /
$1.15M
Clinton, 5150 SF /
$1.5M
Salisbury, 6820 SF /
$1.25M
Bethesda, 5600 SF /
$1.34M
White Marsh, 6140 SF /
$1.22M
National Harbor, 7500 SF / $2.13M
Linthicum, 7100 SF / $1.32M
Windsor Mill, 6400 SF / $1.4M
Dates
2008–2013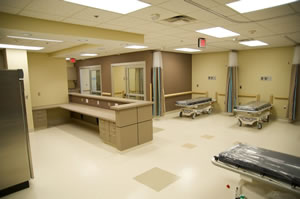 Background
SurgCenter Development partners with physicians across the nation to develop and manage successful ambulatory surgical centers. Either built from scratch or as a tenant build-out in a developed location, each location is specialized to the needs of the physician-owners, while still following SurgCenter's well-proven development methodology. SurgCenter Development decided to expand their portfolio to include Maryland in 2008, partnering with local physicians and developing fifteen locations across the state.
Objectives
SurgCenter needed each facility completed as quickly as possible within the 120 days allotted per site, despite the challenges that inevitably would arise due to differences in the real estate acquired for the locations. They sought an experienced contractor to provide preconstruction and construction management services. CMSI has since expanded the relationship to include more design-build services, to include permitting, site survey, site development, and utility planning.
Approach
CMSI was contracted in 2008 to manage, plan and execute construction of the new SurgCenter facilities in Maryland. In order to develop optimal project plans, CMSI was involved as a consultant in the design process, providing valuable input in the site selection and infrastructure requirements in each of the tenant build-outs. The clinical workflow of all SurgCenter ambulatory surgery centers includes receiving, prep, surgical, and recovery areas, and requires a medical gas system, an emergency generator, and sterilization capabilities. Differences in the properties required specialized electrical and mechanical infrastructures for each center. After construction was complete on each location, CMSI facilitated all necessary inspections and provided final documentation for the Department of Health.
Results
By involving CMSI early on in the planning phases of their projects in Maryland, SurgCenter was able to utilize CMSI's expertise and highly efficient methodologies to complete construction of each location on time and budget. Because of CMSI's exceptional planning and execution skills, CMSI has traditionally been able to complete these projects 30 days ahead of schedule.