Advanced Radiology: New Imaging Center
| | |
| --- | --- |
| Client | Advanced Radiology |
| Location | Hanover, MD |
| Size / Cost | 8,000 SF / $1.3M |
| Dates | November 08–April 09 |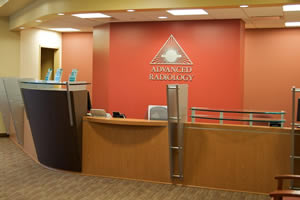 Background
Established in 1995, Advanced Radiology is the leading radiology provider in Maryland, with 23 outpatient locations and six hospital clinics. They offer a wide range of advanced imaging services, including digital mammography, digital X-ray, nuclear medicine, DEXA, high field and open MRI, CT, PET/CT, and more. Over the last six years, Advanced Radiology has contracted CMSI for 19 projects across the state, relying upon CMSI's facilities planning, medical equipment and design-build expertise to deliver well-designed, comfortable, and cost-effective turnkey projects.
Objectives
When Advanced Radiology decided to open a new, full service imaging center in the Hanover/Arundel Mills area, CMSI was contracted as the design-builder. Located at the Baltimore Washington Medical Center Health Services building, the facility was to include MRI, CT, and general X-ray services, as well as a specialty women's center with mammography, ultrasound, and bone density services.
Approach
Contracting CMSI as a design-builder, Advanced Radiology was able to capitalize on CMSI's project programming and installation expertise by involving key project personnel in the initial planning phases of the project. Because the project was a tenant build-out located on the second floor, structural design and reinforcement were critical elements. Work on previous projects gave CMSI a clear understanding of Advanced Radiology's operations and ideal clinical workflow. This, coupled with deep knowledge of the space and facilities requirements of the equipment to be installed, allowed CMSI's design-build team to plan and execute a layout that achieved client goals and maximized use of the space available, as well as incorporating all necessary mechanical, electrical, and structural improvements.
Results
CMSI completed Advanced Radiology's Hanover location on time and within budget, facilitated the owner's final inspections and move-in, and provided operational training on all critical systems. The completed facility opened in May of 2009. It provides a pleasant environment for patients, including beautiful décor, easy access, and a dedicated women's imaging area with a private waiting room. The staff enjoys the intelligently designed space with a highly efficient workflow, and patients benefit from the diagnostic capabilities of the 1.5 Tesla MRI, 16-slice CT, digital mammography, ultrasound, X-ray, and DEXA.