Consolidated Medical Services, Inc.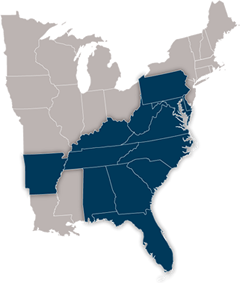 Service Area
Maryland, DC, Pennsylvania, Delaware, Virginia, West Virginia, Kentucky, Tennessee, North Carolina, South Carolina, Georgia, Alabama, Arkansas, and Florida
CMSI is a design-build and general contracting firm serving the healthcare industry in the Mid-Atlantic and Southeastern US. We specialize in the design and construction of high-tech healthcare facilities, and thrive on challenging and technically difficult projects.
Healthcare Design-Build Specialists
Our key areas of expertise are:
Hospital construction and renovations
Radiation oncology, cancer centers, and linear accelerator facilities
Diagnostic imaging, MRI, CT , and PET/CT facilities
Hybrid operating rooms
Surgical suites and centers
Interventional cardiology and catheterization labs
Hospitals and Outpatient Facilities
CMSI's specialty is working in occupied clinical areas of hospitals and outpatient facilities, while being attentive to the care and compassion required in those environments.
Healthcare Contractor Services
Our primary services are:
Site Survey and Feasibility Studies
Project Budgeting and Scheduling
Equipment Planning
Design and Construction Documents
Project and Construction Management
General Contracting Services
Whether you are building a new facility or upgrading your current location, CMSI will take your healthcare construction project from conception to completion as smoothly and efficiently as possible.